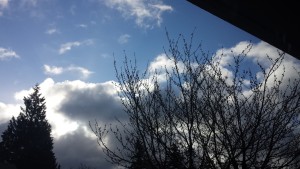 Happy belated Easter!
I hope you and your family had a blessed day.
The music and messages of the Resurrection of Jesus Christ touch and lifted my soul.  Lately I have been touched by grief that has hurt my heart.  But my knowledge of our loving Heavenly Father's plan and that the bands of death are broken has provided great comfort.  The support of my wonderful family and the kindness of many of you has given me strength.  Thank you!
My favorite scriptural messages shared at church yesterday is:
John 20:19 … the disciples were assembled for fear of the Jews, came Jesus and stood in the midst, and saith unto them, Peace be unto you.
And again, just two verses later in 21; Then said Jesus to them again, Peace be unto you: as my Father hath sent me, even so send I you.
These two verses triggered in my memory another. John 14:27 Peace I leave with you, my peace I give unto you: not as the world giveth, give I unto you. Let not your heart be troubled, neither let it be afraid.
My heart and mind have been full of joy all the rest of the day and this has continued
to be with me.
Maybe this message will lighten your burdens as it has mine.
---
***Today's Tune-In Tuesday Video Announces a contest***
                Click to view below.
***Peaceful Place Contest***
– Post onto the link below in the comments of your picture
or view of your Peaceful Place and why.
– By Sunday, April 3rd
– Prize: Holistic Energy Session (50 minutes) valued over $200
– Winner announced Tuesday, April 5th in Newsletter.