This is so exciting! I am free from joint pain and plantar fasciitis. About 3 months ago I did a bunch of research and created a new herbal formula hoping it would relieve some of my symptoms. And it did!!!  I usually drink 1 to 2 cups daily.  Then I ran out and stopped for a week.  Well some of the pain returned.  This tastes delicious and if I have to drink this daily not to ache, I will.
Today I am sharing it with you. It's easy to make. I order most of the ingredients from Mountain Rose Herbs.
Let's make a cup.  Add a heaping teaspoon of Turmeric Chai Concentrate to a mug.  Pour in 1 cup boiling water.  Add sweetener (honey or stevia) to taste.  Top with a float of your favorite milk.  Enjoy!
Turmeric Chai Concentrate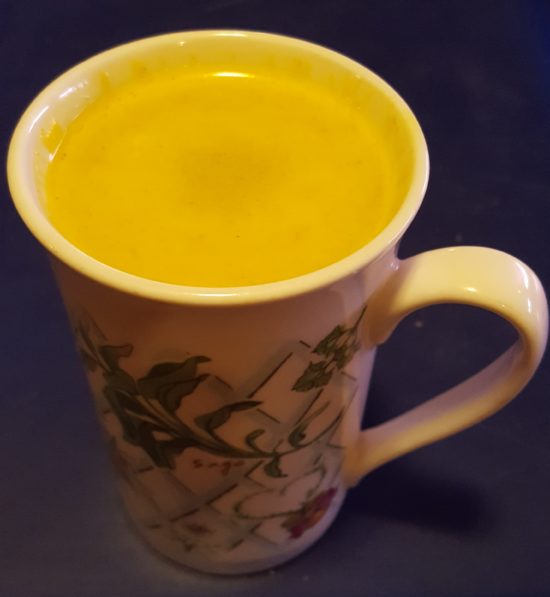 Place 2 cups Cold Water in medium sized saucepan.
Sprinkle 3 packages of Gelatin. Stir and let sit for 5 minutes.
In a mixing bowl stir together:

1/2 cup Turmeric Powder
2 Tablespoons Ginger  Powder
2 Tablespoons Cinnamon Powder
2 Tablespoons Cardamon Powder
1 1/2 teaspoons ground Black Pepper
1/2 teaspoon Real Redmond Salt

Pour all powered ingredients into saucepan with water.
Over medium heat, stir in 1/2 cup Coconut Oil.  Continue to stir as it thickens. Usually 5 to 10 minutes.
Take off heat and stir in 1 Tablespoon Vanilla Extract.
Pour into jar.  Cover with lid and place in refrigerator.  Keeps for 1 month or more.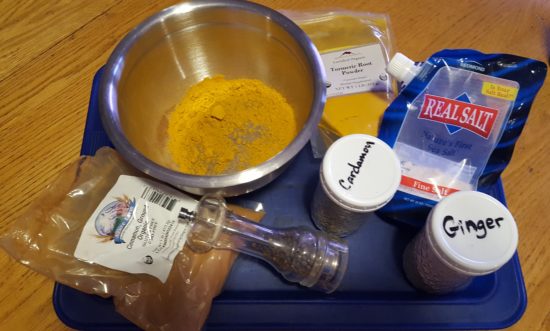 All of the ingredients have properties that will benefit most of us.  This formula is easily absorbed.
Turmeric – anti-inflammatory, antioxidant, increase brain function, heart health,  anti-depressant
Ginger – digestion, nausea, reduces pain, anti-inflammatory, immune system (a daily favorite herb of mine)
Cinnamon – antioxidant, anti-inflammatory, fights diabetes, hearth health, brain function, immune support
Cardamon –  improve digestion, stimulate the metabolism, antidepressant, heart health
Black Pepper –  anti-oxidants, improve digestion, anti-inflammatory
Real Salt – immune system, brain health, trace minerals, natural antihistamine
Coconut Oil – heart health, brain health, digestion,  anti-inflammatory
Gelatin – digestion, joints, sleep, mood, skin & hair
Vanilla – antioxidant, antibacterial,  anti-inflammatory, mood
Each of these ingredients have so many more benefits than I've listed.