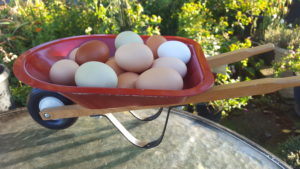 I have always loved eggs.  Even when they were out of "style".  For most of the last 30 years, we have had laying hens and fresh eggs.   Eggs are an amazing; 6 grams of *complete protein, 5 grams of rich healthy fats, ability to raise your HDL (good cholesterol), add antioxidants and trace nutrients, stabilize your blood sugar and can help you lose weight.  It doesn't get much better than that.
Enough said!  We eat and love eggs; fried in coconut oil or bacon fat, scrambled, hard boiled (thanks to my Instant Pot), omelet, frittata, strata, quiche, custards and more.  A frittata is a crust-less quiche and very easy and quick to prepare. Serve it for breakfast, lunch or dinner.  The leftovers are delicious and it's even good cold.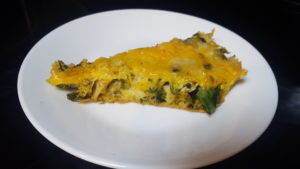 Make It Your Way Frittata
Serves 4
Preheat oven to 350′. In a heavy 10″ ovenproof skillet or cast iron pan, saute 1 chopped small onion, minced garlic clove (opt.) in 3 Tablespoons coconut or olive oil over medium-high heat. Cook until tender. Lower heat to medium.
Add into pan 1/2 to 2 cups options: cooked, sliced vegetables (artichoke hearts, broccoli, summer squash, etc.), sliced potatoes, cooked diced ham, sausage, bacon, raw greens (kale, spinach, etc.).  Toss with onions.
In a bowl whisk 8 eggs with salt, pepper and seasoning options: minced fresh herbs, seasoning salts, pesto, seasoning blends, etc.  Pour over everything else in the pan. Stir and gently cook till the sides start to pull from sides, about 3 to 5 minutes.
Top with 1/2 cup or more cheese, of choice, if desired. Place into 350′ oven for 10 to 15 minutes, until set.  Enjoy!
*Eggs contain all nine essential amino acids in the right ratios, so our bodies are well equipped to make full use of the protein in them.